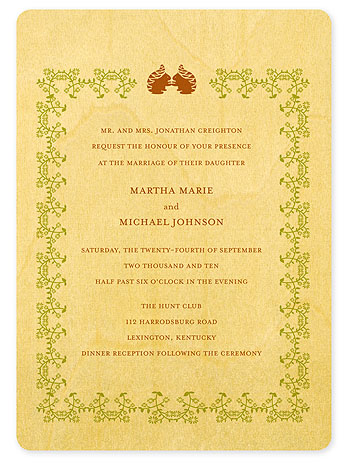 Look at the adorable invite I just stumbled into during my daily discovery time.  Birch wood invitations, reply and save the date cards from Night Owl Paper Goods- modern yet folksy.  They call them eco-chic wooden goodies and  list three retail spots right here in Wisconsin.
Hmmm, I would reuse the reply card as a place card on my reception tables.  Such tactile delights to send out to loved ones.  Just had another idea, stick  a magnet on the back and your invite becomes duel eco-chic refrigerator art/reminder.
Adorable Squirrels
Of course I am drawn to the design graced  with the adorable squirrels at the top. I just love that pistachio green!  I think I just saw our youngest garden squirrel nodding his head in agreement. It must be that extra cup of morning coffee that makes communication with the squirrels seem so easy.